The Best DNA Test Kits in 2020 (Expert Guide & Reviews)
Ever wonder what your true background is? Yes, you may have heard family stories, but what about using a DNA test kit to get the answers in black and white?
You will find there are many options out there, and we sent our team on a mission to find what the best ones are. Continue reading and learn about the different types of kits and tests, the companies behind them, and which are the most accurate and trustworthy.
Top 10 Best DNA Test Kits Options Overview

Our Top 10 DNA Test Kit Reviews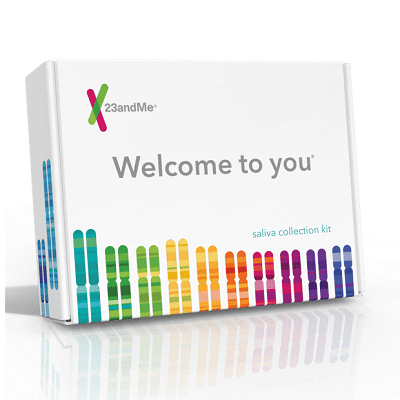 23andMe was one of the first companies to offer DNA testing at home, and it continues to hold first place due to its continuous growth thanks to technology and its customer base. With its database constantly growing, it's one of the best places to find new relatives. The 23andMe Personal Ancestry DNA Test Kit has been and continues to be a favorite.
We tested it out ourselves and were impressed by the ease of use and fast results. You get an easily understood visual of your results, a detailed explanation, and extra help should you need it. The presentation of information makes it easy to read even for newbies to DNA terminology and the overall concept.
For an extra fee, you can add the 23andMe Health Review, which will give you in-depth information on potential genetic factors—for example, it tells you if you're a carrier of more than 40 conditions or many other traits, such as whether you have dimples, are prone to hair loss, or even have a fear of heights. Although it offers a lot of information across the board, when comparing 23andMe vs. Ancestry, the database is smaller, offering less information on your relatives.
✔ Pros:
Broad database

Tests the most regions

Accurate and in-depth ethnicity and health test

Database for finding family

Health results available

Great dashboard and reports
✖ Cons:
Connect to relatives only through their messaging system 

Can't upload raw data from other DNA reports
There is no doubt that this is by far the company with one of the biggest databases, making it the ideal choice for anyone looking to connect with family members. Their system is well organized, and even though it does take quite a bit longer to get results than 23andMe, it's well worth the wait.
Our review supports the many other AncestryDNA reviews for 2020 in that it presents users with a quality in-depth look at their ancestry and ethnicity, all while offering an extensive database through which to find relatives.
The process is straightforward, and once you get past the wait, thanks to the massive collection of DNA they have, you're sure to find some interesting facts about yourself and your family. Many AncestryDNA customer reviews reflect our experience with the company. Not only were specialists available to assist us with any questions we had, but there was plenty of information presented in simple, straightforward language to guide us into our family's past. 
✔ Pros:
Biggest database for finding relatives

Easy-to-use family tree building tool

Best ancestry DNA test for adoptees

 

Exceptional customer service

Very informative and easy-to-use reports
✖ Cons:
mtDNA or Y-DNA tests are not separate

Can't upload raw data from other DNA reports

Must have a subscription to view matches to your family tree
Although this is a relatively new company that started doing DNA testing in late 2016, its low price and quality results attracted a lot of attention quickly. Today, there are millions in the database and numerous people using the MyHeritage family tree builder.
To start, our MyHeritage DNA review made the list because of the impressively low price—and even more significant discounts. What's more, the company offers fast and accurate results that are easy to read, and it provides a fantastic platform for building a family tree and adding new family members. The one thing to remember, though, is that there are a lot more customers in Europe than in the US, so it's not the ideal choice for US-based customers seeking out US relatives.
Looking at MyHeritage vs. Ancestry, the services provided are reflected in the price. Many MyHeritage reviews show that people are satisfied by the low cost and what they get for it, especially since it's combined with excellent customer service and fast results. Upon testing, we found that even though it's a relatively new company, we were able to get excellent ethnic background data and take advantage of the family tree builder.
✔ Pros:
14-day free trial where you can upload raw data from other DNA reports

Inexpensive

Big DNA database 

36 health risk and carrier reports for an added charge
✖ Cons:
Only 42 ethnic regions tested

Few resources for getting connected with relatives

No maternal or paternal tracing
The Living DNA test company is also a new site, but it's quickly gaining momentum with its low prices and variety of specific DNA test options. The Living DNA reviews are hitting the charts more and more because of the comany's accuracy, high-quality platform, and availability over the counter in popular pharmacy chains.
The starter kit is only $49 and offers plenty of information. You can further upgrade from there and get added reports, or you can jump right into a more expensive kit right off the bat with a broad spectrum of results. Even though there are several specific kits, including the best DNA test for African American ancestry, this is the only company that has broken down the United Kingdom into particular regions, offering high-definition testing for the British Isles and those with ancestors from there.
Furthermore, the company offers pet reports, Europe-specific reports, maternal and paternal family lines, and much more. Unfortunately, the database is still very small, so if you're looking for family members, it may not be the best choice.
✔ Pros:
Inexpensive starter option

Many test and report options available 

Ideal for British and Irish ancestry

Paternal and maternal map for UK family history

Living DNA raw data upload available
✖ Cons:
Small database, not suitable for finding family

The platform is still being built

Very long wait to get results
5. Family Tree DNA Review
Family Tree DNA offers three test options. You can choose to have a starter autosomal DNA test kit, which delivers a basic overview of the geographic origins of your ancestors going back five generations along with the opportunity to connect with new relatives. However, the database is considerably smaller than that of AncestryDNA and 23andMe. Still, many Family Tree DNA reviews show that users are satisfied with the price and results, and our experience with the company backs this finding.
The company also offers Y-DNA and mtDNA test options, which would be great additions to the starter test. However, if you choose to do all three—thus fully taking advantage of the best genealogy test out there—the price will go up dramatically. So if you're looking for in-depth information, be ready to shell out some cash.
On the other hand, the maternal and paternal line tests are very comprehensive and can give information on each going as far back as 25 generations or even more. The Y-DNA and mtDNA tests are definitely impressive, even though our Family Tree DNA family finder review isn't putting them at the top.
✔ Pros:
Y-DNA and mtDNA tests can go past 25 generations in depth

Connect with family with each kit

Family Tree DNA results

among most comprehensive on the market

Upload raw DNA files from other companies
✖ Cons:
Database not as big as that of leading companies

Each kit needs to be purchased separately 
6. African Ancestry Review
The test is developed with in-depth information dating back as far as 2,000 years. This is a particular kind of test that is absolutely the best DNA test kit for African American ancestry. The African Ancestry DNA test works with more than 33,000 indigenous DNA samples coming from 40 different African countries. This allows the company to provide information on more than 200 African ethnicities.
Many users were able to trace their DNA all the way back to individual tribes like Hasa, Tikar, and Fulani, according to the majority of the African Ancestry reviews. The price of the test is very steep, and if you want to follow both your paternal and maternal lineage, you will spend nearly $700. However, unlike other tests, this one is very specific.
Once you get your African Ancestry DNA results, there are family tracing and contact services available. They even take it a step further and offer full meet-up services that include everything from finding a family member right down to travel and stay expenses. As per the many African Ancestry DNA test reviews we found, many were able to find family members and take advantage of these services.
✔ Pros:
DNA test catering to African heritage

Traces family heritage up to 2,000 years

Covers more than 200 African ethnicities across 40 African countries

Full-service family tracing and meet-up available
✖ Cons:
Can get very expensive to trace both paternal and maternal family lines

The website could be more user-friendly, but the customer service is great
This particular kit made our list because of its in-depth gene pool and unique ancestral tracking technique. In addition to gene-pool percentages, you'll also get a map of the last three significant family DNA changes, giving you a visual idea of how your family has changed over the years.
The one thing that other HomeDNA reviews have mentioned as a negative on this particular kit is that there is no family-find option. So if you're hoping to find family, this definitely isn't the right route.
On the other hand, the company also offers a wide variety of test kits, including those for health, beauty, and pets, as well as maternal, paternal, and in-depth ancestry. Plus, the company also offers a HomeDNA paternity test kit. It's a great tool to find out more about yourself or your pets, even though it may not be the best ancestry DNA test for finding family members.
✔ Pros:
Best for learning migration patterns and family history

Variety of other tests available

DNA results can go back 1,000 years or more

Tests about 80,000 autosomal genetic markers

Map of geographic locations of family changes
✖ Cons:
This particular test can only be found in select stores (not online)

No family finder
This particular test is for those who are proactive about their health. If you want to take action to live the best life possible, this is the best DNA test for health-conscious people. Once you've provided the necessary sample, you'll receive your thorough report on many medical predispositions.
However, this isn't a suitable kit for finding ancestors or your family history. Rather, it's a deep dive into your DNA to find out what risks and traits you've inherited, which most other tellmeGen reviews will remind you of.
Furthermore, we found the medical and nutritional counseling very helpful once we got our results. Plus, once you've gone through the process, you'll get lifetime updates. What we liked best, though, is the company's dedication to transparency and truly exceptional customer service. When it comes to your health, this is the best genetic testing for 2020.
✔ Pros:
A fantastic kit for those looking to find out more about their health and future

Tests DNA against 550,000 health markers, covering 125 illnesses

Support for medical and nutritional questions and guidance

Dedicated to transparency about procedures and company
✖ Cons:
Offers a very small gene pool, and there's no connection to relatives

Not many ethnic regions
How We Selected the Best DNA Test Kits

For the most part, all of these test kits function the same way. You order your kit, receive the package, follow the instructions (either provide saliva in a tube or through a swab), pack up the samples, and send them off to the company. Once the results are done, you get an online copy or hard copy of the results.
Of course, there are also many differences between the best genetic testing kit options. From the way the samples are gathered to the testing and presentation of results, there's plenty to consider. Different companies also take longer to get the results back to you, and your information is stored and used differently depending on the company.
In our search, we weeded out the good from the bad and presented only the best using the following evaluation methods:
Company Overview
To first get a general idea of the top DNA testing kits on the market so we could start narrowing down the list, we searched for the most trusted companies out there. These are companies with a longstanding history that offer transparency about their results and have an overall good rating among users.
Customer Reviews
Aside from reviewing which companies have the most significant customer bases, we went through thousands of customer reviews and dug deep into their feedback to help us narrow down our list.
Ease of Use
For us, the kits on our list needed to be easy to use and have understandable instructions. When choosing the best DNA test kit for ancestry, the risk of mistakes must be reduced as much as possible. The tests on our list are all either simple swab tests or saliva tests that are very simple to do, leaving little room for error.
Speed
Although the time it takes for results to come out varies from test to test, we wanted to make sure the timeframe is reasonable. It's exciting to get such interesting and potentially life-changing information, and we wanted to make sure the wait time was as short as possible. 
Accuracy
Remember that even with the best genealogy DNA test, there's always that margin of error that needs to be considered. Don't expect a full list of relatives or for a test to give you a complete family history. Depending on what you're testing for, especially when it comes to medical conditions, always keep in mind that this is a general overview. 
Privacy
We can't stress this enough. Not only will this test contain personal information concerning your family, but it could cover your health as well. Your DNA holds nearly everything there is to know about you. We've made sure that the tests in our reviews focus on customer privacy. 
Results
To ensure we're delivering the most accurate DNA test reviews, we focused on providing you with products that offer excellent support alongside their results and that they give you plenty of ways to use them. Many of these companies have a database where you can find relatives, learn about your family line, and track where your family comes from. The platform needs to be easy to use, provide access to specialists that can give further information, and offer other services.
Customer Service
To us, proper customer service and prompt responses are crucial with such tests, especially considering their price. Before we refined our choices for the best DNA ancestry test for 2020, we contacted each company to make sure they offer quality and prompt customer service. 
Testing
Once we narrowed them down to 10, we ordered each one and tested them ourselves. Different members of the team tried out various tests to see the overall process, ease of use, results, and options available.
Now that you know how we came up with our list, continue reading to find out more about DNA testing and these types of home kits.
How to Choose the Best DNA Test Kits for Yourself
Several years ago, home DNA test kits became all the rage among those who wanted to dig deeper into their genealogy and find out more about their roots. Today, they continue to be popular and have become even more affordable, but choosing the right one is tricky. 
Below, we've put together some important information about DNA kits and what you need to know to choose the best one.
Why Buy Home DNA Testing Kits?
Some people get their DNA tested out of curiosity to discover as much as they can about their heritage. Others do a DNA test for more personal reasons, such as looking for extended family members who may be in the system or discovering new ones. 
The last reason most people do these tests is to find out more about their health and what to potentially expect in the future. 
Let's go a little deeper into the three types of DNA testing available.
Types and Uses of DNA Tests
If you're ordering a DNA test for your home, you're most likely looking for one of the following three types of kits:
DNA Testing for Ethnicity
This type of test is done with the goal of tracing family history and ancestry. The full DNA test is done to give you a breakdown of your ethnicity and ancestry. This will break down your ethnic background into percentages and provide you with the migration patterns of your ancestors. 
Many people are usually left quite surprised by these tests as they typically reveal that your ethnic background may be quite different from what you thought. Furthermore, you'll learn about haplogroups, which we'll discuss in further detail below.  
DNA Testing to Find Relatives
Interestingly enough, with the best ancestry test, you can find long lost relatives through DNA testing. Furthermore, these types of tests could reveal relatives you didn't even know you had. This is done by matching your DNA with others who've used the same service and chose to connect to matched relatives.
You'd be surprised by how many people have found relatives they had no idea existed. The key here is to choose a test kit that is very popular and has a broad database. 
The Best Genetic Testing for Health
Many people turn to genetic testing to get a better idea of what conditions they should keep an eye on. However, this is a somewhat controversial reason to use these types of tests. For example, if they reveal that you're predisposed to a particular form of cancer, this may result in you doing more tests and becoming more and more stressed. 
The critical point here is that even with the best DNA test kit, there's no guarantee that you will develop this condition, even if you're genetically predisposed to it. Furthermore, there's always the possibility of false negatives and false positives, so we don't recommend these tests unless you've consulted with your doctor, and they recommended it.
Thus, before looking for a home genetic test kit, make sure that you're clear on the possibilities and what you want to learn. This will help you choose the ideal test for your needs and get the results you seek.
How Do DNA Testing Companies Work?
If you want to get a DNA test and learn anything listed above, you don't need to worry about needles. The home kits that you order from these companies don't require blood—your spit is more than enough to get the necessary genetic data. This is either by sending the saliva in a vial or using a rub to swab your mouth. The process behind the products in our best DNA ancestry test reviews listed above is straightforward because of this. 
Each cell in our bodies contains the DNA genetic code that makes you unique—from the color of your eyes and hair, all the way down to the shape of your ears and the length of your fingers. It even reveals if you're predisposed to high cholesterol.
Put simply, you choose the company you want to work with. You then order a home kit, follow the instructions for gathering a DNA sample, send it in, and wait for your results. 
Choosing the Best DNA Kit Based on What You're Testing
Now, before we continue with the guide, it's essential to know the key terms you'll likely see while searching for a kit.
Single Nucleotide Polymorphism (SNP)
This is among the most common types of genotyping. It refers to the measurement of variations in genes of single nucleotide polymorphism. The more that's measured, the more variations can be analyzed, thus helping narrow down one's risk for certain diseases, for example.
Autosomal DNA Testing
Most of the best DNA testing kits can be used by both men and women. This further means that the kit traces the lineage of the tested individual on both the paternal and maternal bloodlines.
Y-DNA Tests
These types of tests can be done only on men, and thus trace lineage only through paternal ancestry. Thus, the results will reveal information down the line of the father, grandfather, great-grandfather, and so on.
mtDNA Tests
For women, the best ancestry DNA test is an mtDNA test that traces ancestry along the maternal line. Most people can trace back to their great-grandparents, but this DNA test can go much further.
It's important to note the significant difference between the tests catering specifically toward women or men, and those that cover both. Autosomal tests can reveal information going back only four to five generations. On the other hand, the mtDNA and Y-DNA tests that focus only on one side of the line give more detailed information further back, though you then get less information on the overall family structure.
Haplogroup
Once you've chosen the most accurate DNA test kit for your needs, you'll get information on your haplogroup. In simple words, this is your ancestry clan traced deep into your family history. There are both female and male haplogroups going back all the way to prehistoric times. The first haplogroup was in Africa, then as the tribes traveled and left the continent, their DNA mutated, and new groups were formed.
Factors to Help You Choose the Best DNA Ancestry Test
There are several important factors to consider when choosing a company and a specific test. There are many companies out there, and many more types of tests from which to choose. How do you know what's best?
Database Size
This is especially important if you're looking for extended lost relatives or you want to find ones you had no idea existed. By choosing the best DNA test for ancestry that offers the biggest pool of participants and data, you have a higher chance of finding a relative. 
Privacy
We aren't talking about your social security number here, this is far more serious, this is your DNA. You must choose a trusted company that will not only protect your DNA but your results as well. Security should be of the utmost importance, not only with your DNA sample but your personal and medical information as well.
Furthermore, even with the most trusted, best DNA test kit, you must read all the information on how your genetic data will be used, even if it's used anonymously, and how long they keep it. A recent example is how the genetic data from a genealogy service company was used to identify the leading suspect in a recent series of murders.
Results
Different companies and tests give different types of results. As we mentioned earlier, you need to know what is important to you and compare DNA testing kits to find one that offers you the service and test you seek. From finding out your haplogroup or discovering new family members to seeing what your DNA reveals about your health, there are plenty of options out there. There are even DNA tests for pets. 
Cost
There is quite a variety of price ranges, even for the best DNA test kit options. As with anything else, though, the higher the price, the more in-depth results you'll get. So if you fall in love with an inexpensive test, make sure you review what you'll be getting so you aren't disappointed. Another misleading way to advertise these tests is to offer only limited access to results for a lower cost, but to get the full results, you have to pay more.
Ease of Use
Today, nearly every DNA test online works more or less the same. You order, receive a package, send a saliva sample, send it by post, and wait for information on the results. 
Although the first steps are straightforward, it's what happens after that complicates things. Some tests offer faster results than others. Also, reading the results and using them can be problematic if their system isn't well organized.
Look for a company with an online database and specialists standing by to offer help in better understanding your results.
After the Test
If you chose the best DNA test kit for health and have received your results, always discuss the findings with your doctor. All health data should be taken with a grain of salt and shouldn't replace professional healthcare consultations, findings, and recommendations. 
Although DNA testing can give you and your doctor an indication of what health problems you are genetically predisposed to, it doesn't necessarily mean they're something you should feel stress over. Speak with your doctor—they'll help with recommended follow-up tests when necessary or any lifestyle changes if they feel there's room to worry.
Accuracy
Even with the most accurate DNA test for ancestry, it's crucial to keep in mind that through these types of tests, you only get an indication. They are developed, first and foremost, to entertain and give you a glimpse into your past and roots, so don't expect them to magically give you a full family tree. 
These test kits work according to their database and connect people who have used the same company for testing, so there's no guarantee you'll be connected with long-lost or new family members. Furthermore, those tested must agree to be contacted by potential family connections, and not everyone wants to be included in the database. 
Frequently Asked Questions
Are DNA test kits accurate?
As with everything else, it needs to be taken with a grain of salt. Gene testing is a game of probability. This means that when you get your results, it may show a high probability of having, say, a gene for blue eyes, even though yours are brown. There are also differences in outcomes between companies because they look at different parts of your DNA.
Do siblings have the same DNA?
No, there are considerable differences in DNA between siblings. In fact, siblings share about 50% of their DNA with one another as they each get different genes passed down from their parents.
How many generations does DNA go back?
Every person gets DNA passed down to them from the previous generation, and that generation from the generation before them. Autosomal DNA gets mixed every time it's passed down from parents to their children. This is why DNA can be traced back by about 5–10 generations.
Can you share DNA and not be related?
It is possible to share some DNA with another individual who isn't your direct relative or cousin, or even a recent ancestor. However, this probably means that you share a common heritage much further back.
Do you inherit more DNA from your mother or father?
The truth is that you inherit more genes from your mother than your father. So technically, you are more related to your mom than you are to your dad, and that's the case with nearly all animals. 
Can you brush your teeth before a DNA test?
It is not recommended that you brush your teeth within at least one hour before a sample is taken for DNA testing, as this could potentially contaminate the sample or cause it to not gather enough DNA information from the swab. 
To Sum Up
There are plenty of options available, as you will see in many DNA testing kits' reviews. With such a broad selection on the market, it can be challenging to choose the ideal kit for your needs without a little bit of help. 
The very first step is to determine what you would like to learn from your kit. This will bring you one step closer to finding the one that provides you with the results you seek. The key is to work with a company that's trustworthy, is transparent in its processes, and covers the factors that you're most interested in.
We hope our review and buying guide has brought you closer to choosing among the best DNA test kits to suit your needs and has answered some of your most pressing questions.